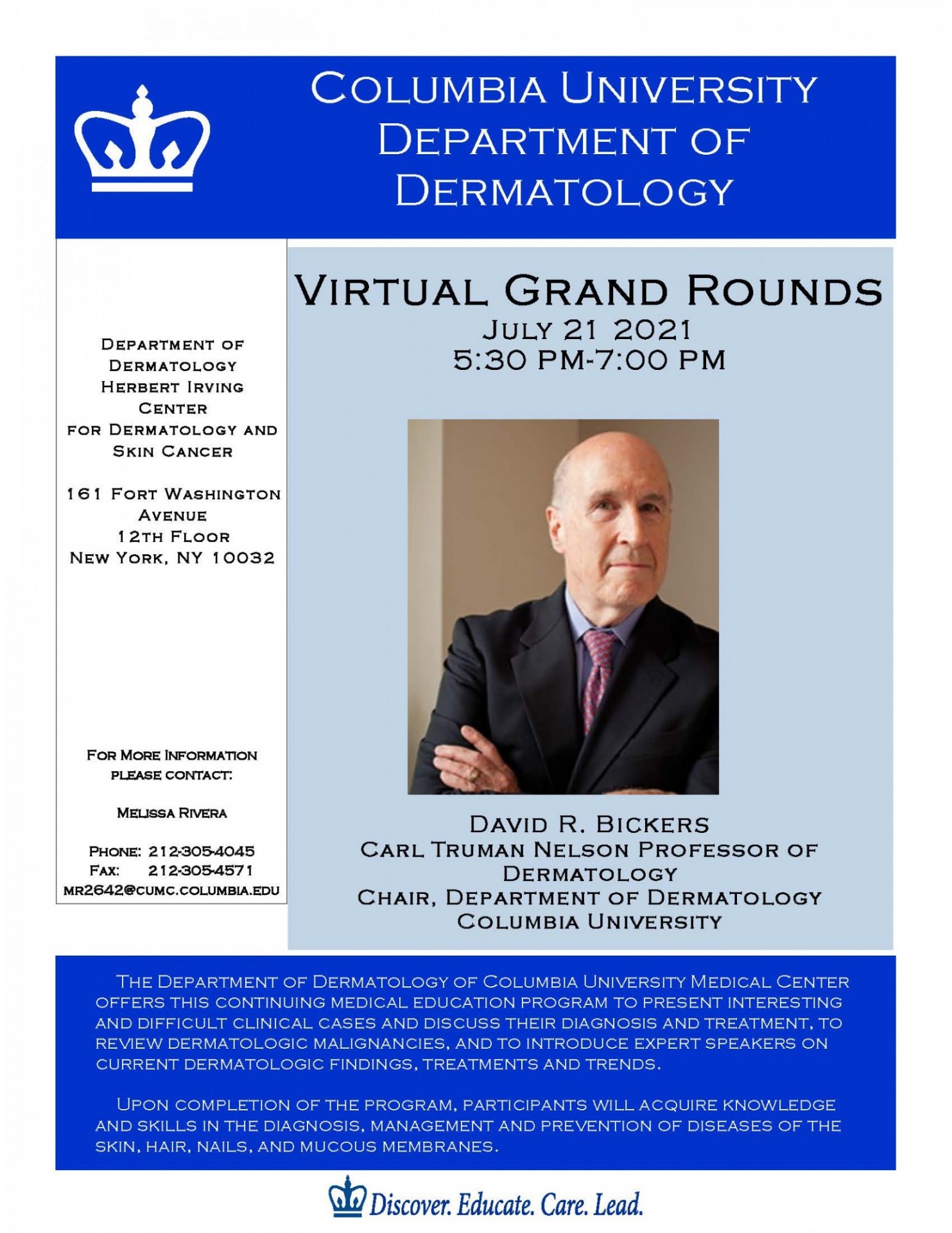 News
We are delighted to announce the publication of NAAF's seventh Alopecia Areata Research Summit, Forging the Future, in the prestigious Journal of Investigative Dermatology Symposium Proceedings (JIDSP). Our research summits serve to distill exciting new discoveries, chart the path forward and prioritize the most critical, high-leverage research investments made through NAAF's... https://epicure.cumc.columbia.edu/recent-news
Enrichment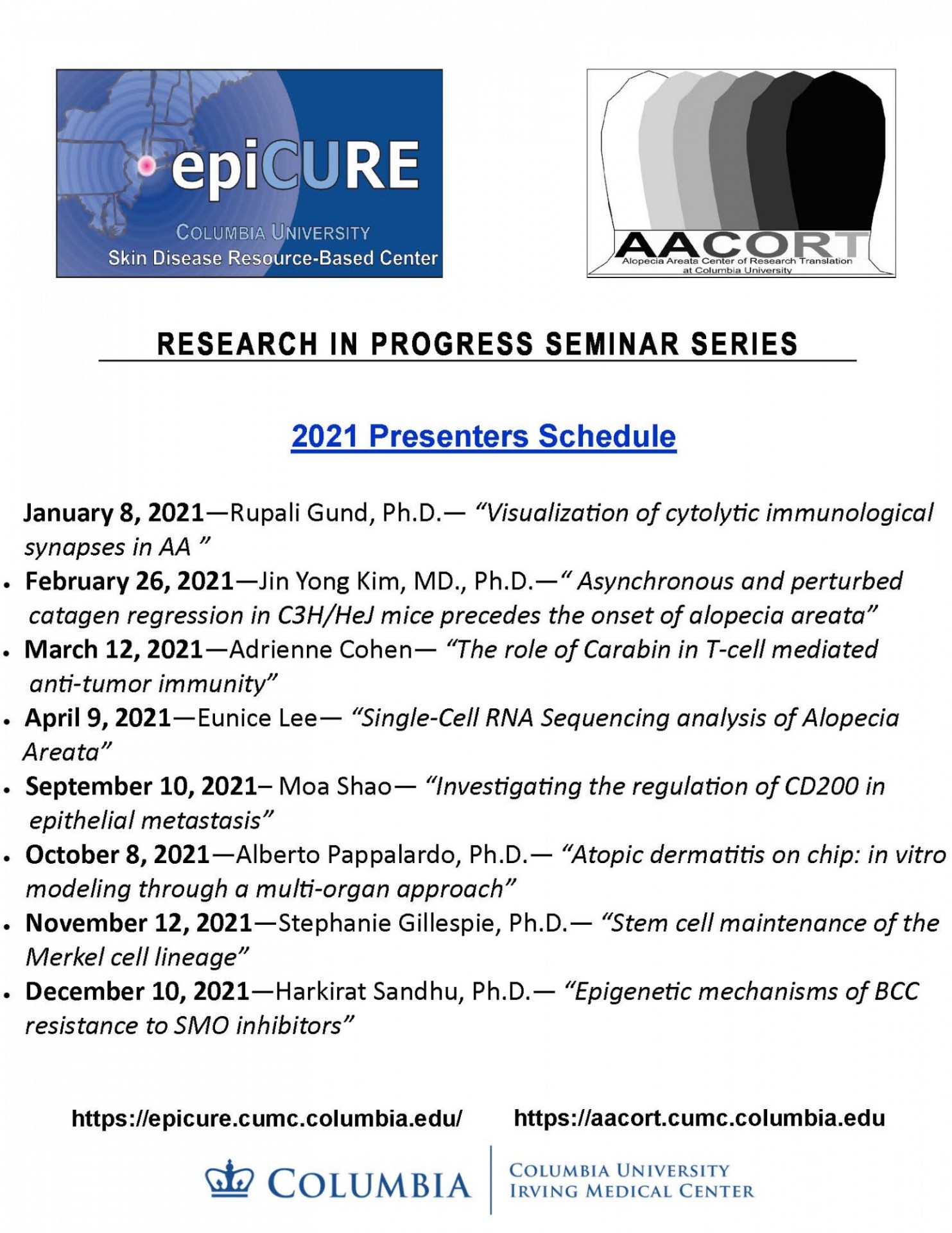 Recent Publication
Perspectives on the recommendations for skin cancer management during the COVID-19 pandemic

Careers
Job Description:
The Department of Dermatology at Columbia University is seeking a highly motivated post-doctoral scientist with an interest in adult mammalian stem cell homeostasis to join our group. The position will address the mechanistic regulation of adult cutaneous epithelial niches that may be compromised during aging and the impact of this dysregulation on tissue integrity, function and cancer.
The candidate will be responsible for performing rigorous cell biology, biochemistry and bioinformatic analyses using well-defined mouse models targeting specific stem cell niches in the adult skin. The candidate will be responsible handling bioinformatic analyses focused primarily on single-cell and bulk RNAseq data sets. Candidates with prior experience in bioinformatics (transcriptomics and genomics), systems biology, or RNAseq data structure/analysis will be considered highly competitive. Candidates at minimum should have experience with standard bioinformatic analysis (differential expression, basic classification, genomics, data visualization, etc), statistics, and/or programming experience (R, perl, java, python, etc).
Prospective applicants should have a Ph.D. or equivalent and should possess strong laboratory, analytical, interpersonal and communication skills.
The Basic Science Research Group within the Department of Dermatology at Columbia University is an exciting, multidisciplinary workplace with excellent resources. We are seeking creative and highly motivated individuals interested in working in a dynamic research environment, where they will have the opportunity to gain diverse basic, pre-clinical and clinical research experience, and receive excellent mentoring.   
Please email the documents below to both David M. Owens, Ph.D. at [email protected] and Brandon Begarly at [email protected].
1. Cover Letter
2. Resume and/or CV
3. Contact information including name, email and telephone number for three (3) references
The Department of Dermatology at the Columbia University Irving Medical Center invites applicants at all ranks for full-time faculty positions with a focus on research in Skin Cancer.
Successful candidates will be joining a vibrant Skin Cancer research community that emphasizes combining basic and clinical research, patient care and teaching. Current research interests in the Department of Dermatology include skin biology, immunology, epidermal differentiation, skin stem cells, signal transduction, skin cancers (both non -melanoma and melanoma), mouse models of skin cancer, immuno-oncology, complex organotypic skin modelling, data warehouse and systems approaches, and clinical research.  Applications are invited across the full spectrum of basic to translational skin cancer research.
Candidates may hold an MD, MD/PhD or PhD degree or equivalent, with a demonstrated track-record of leadership, excellent communication skills and publications in high-impact journals.  Candidates will be expected to sustain an outstanding, extramurally supported research program and multidisciplinary collaborations.
Interested candidates should apply online at: www.columbia.edu, under Employment, Recruitment of Academic and Personnel Systems (RAPS) and email your curriculum vitae, research statement and cover letter, along with names and addresses of three references to Dr. Angela Christiano ([email protected] ) and Mashika Patterson ([email protected])
You can also apply at the link provided below as well
https://www.nature.com/naturecareers/job/faculty-position-assistant-associate-and-full-professor-columbia-university-medical-center-cumc-cu-732585
Date Posted: November 24, 2020